We officially no longer live in our house. But, it's still our house, which means we still have a mortgage. While our renters wait for their house to sell, and while they decide if they want to buy our house, we don't have an official home. We're staying with my mom while we wait for everything to straighten itself out. My mom is generous to have us and while I don't mind being home-home, you still don't want to be in your mid-thirties and living with your mom even though it makes the most sense and reduces the amount of times we have to move our stuff. I just don't want to hate my stuff more than I already do.
What does this have to do with cat poop? When you have cats AND dogs, you have to spend a surprising amount of time trying to figure out how to "protect" cat poop. If you have cats and dogs, you also probably know the term for cat poop that is used to describe a dog's maddening love of it – Tootsie Rolls.
Every time you move with your dogs and cats you have to re-figure out how to keep those precious tootsie rolls from constant threat. I think it's one of life's strangest predicaments. For us, the solution usually involves a closet and a baby gate.
When we move, I forget about this predicament because we did a really good job of solving the problem in our previous abode, like when people let their guards down during times of peace. Of course, it's only a matter of time (that amount of time is easily measurable – it is the exact amount of time it takes for the cat to take his first shit in the new house) before I'm reminded that a fortress must be built around the Kingdom of Litter.
Our dog Ed is a turd connoisseur. I think he was feral at some point, which probably started his terrible hunger for poo, as it may have been his available meals. If Pizza Hut sold a Turd Lover's Pizza, he'd eat it every day. His favorite soup would be turdle soup. He'd be disappointed by a pu pu platter. We don't let him pick what he has for dinner, is what I'm saying.
He has the well-earned nickname "Turd Burglar." He'll burgle turds at every opportunity. Turds tremble in fear when they sense he is near. Seriously, the dude loves turds. That's why, when Tom wanted to practice on his new photo editing program, he chose to create this:
You may be a world-class turd burglar, Ed, but this time the local tootsie rolls will only have folklore legends to pass down from generation to generation. "Hair as orange as John Boehner's skin and a collar as green as grass, and he'd just as soon eat you as look at you."
Rest easy, sweet turds, you're safe for now. Turds in the backyard, I'm afraid you're on your own.
—————————————————-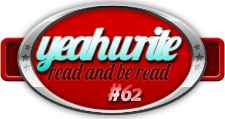 Adding this post to the Yeah Write weekly challenge. I had a lot of fun last week reading new blogs. You can lurk, hangout, or enter a post in the weekly challenge, then vote for your 5 favorites. Go check it out.