Super Friends Season 2, Episode 13, Storyline D – "Tibetan Raiders"
Original Airdate – November 26, 1977
Magic Trick:
Yet again, they have Aquaman underwater doing a magic trick, this time with NEWSPAPER. As the newspaper would be a pulpy blob and therefore unusable, out of protest, I shall not waste another moment on it.
Introduction: "High above Tibet, over the Himalayas, a Tibetan airline jet fights its way through the turbulent stormy skies." – Narrator
Lightning strikes the plane, and what's supposed to be a bunch of sparks actually looks like a pretty bad flesh wound.
The captain is either really concerned about the plane or has just been shown his mustache in a mirror.
They decide to prepare for an emergency landing. Which, they accomplish, with somehow simultaneously having everyone safe and breaking the plane in half. Impressive.
And now they're grounded and stuck in a blizzard. Looks like a job for…
Superman and Flash
"If it's time you're concerned with, my super speed will get me there in a flash." – Flash. Get it? Flash? Like his name and also like the descriptive word?
"We'll leave immediately!" – Superman, inviting himself along. The narrator says he streaks into the sky, but he DOES have his costume on.
But, there are more, much bigger holes.
Three guys shiver around a cracked door. One says, "we'll freeze if we don't get that door covered up."
After some negative Nellie "they'll never reach us in time" talk, we pan out to see…these guys!
T-t-t-tibetan Raiders! Dontcha just hate looking out of your freezing cold split-in-half plane thinking someone has come to rescue you only to find out they're Tibetan Raiders. And on a MONDAY – that's the worst (I'm taking creative license and assuming it's a Monday).
FORGET ABOUT THE STUPID DOOR!
"Hurry, we must barricade the door! The Raiders prey on hopeless travelers!"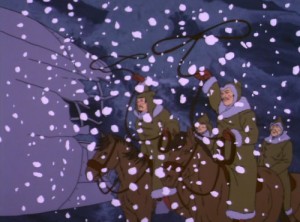 The Raiders humor everyone and easily pull the door down.
Meanwhile…
Superman and Flash aimlessly wander around looking for the downed plane. A lookout for the Raiders (these guys are better organized than the superheroes) spots them and warns the others.
Some of the Raiders drag the tail end of the jet away as a decoy, while the others bury the plane under an avalanche of snow. That's cold. Sorry.
This is where the plan falls apart.
The Raiders don't really have a good approach when it comes to overpowering superheroes. They try to lasso both Superman and Flash, and it doesn't work (I gave them a 60/40 chance of it working).
The Raiders give the location of the buried plane up pretty easily. I was disappointed.
Superman and Flash find the plane, and from high above, the Tibetan Raider leader tells no one in particular out loud that they will soon also be buried along with the plane.
Nice try, but you've only provided Superman with the makings of the most obnoxious snowball fight snowball ever.
And he's totally the type to throw this monster then immediately tell everyone he can hear his mom calling him home for dinner.
Flash digs out the plane and they save the day. Then, Flash tells them that "if you ever need us, we'll be back in a flash." Ok, dude, this story is like six minutes long – that's one too many puns, and the same pun, too.
If you would like to see these shenanigans for yourself, Season 2 is available on DVD.