Ten years ago Tom and I moved to the Atlanta area. For ten years, I've missed out on the North Carolina State Fair.
While I realize that since the state fair is comprised of traveling rides and food carts, my state's state fair is probably not much different from any other state fair. But, I like to pretend it's special, and, really, since every single thing is in the exact same place every single year – it is kind of unique in that way (meaning that say the South Carolina state fair probably puts the Worlds Smallest Horse in a different same place every year than North Carolina). That's one thing I love about it – it doesn't really change, although I would say this year there were less peanut shells all over the ground, just an observation.
After finally making it back to North Carolina, one of the things I was really looking forward to was getting to go to the State Fair again.
We (Tom, my sister, and I) went on a Wednesday afternoon, which meant a light crowd, which is good – less second hand smoke and faster access to fried foods. We arrived hungry, because as we all know, it is important to save as much room as possible for the delicious treats. But, we're health-conscious folks, so luckily, we found some healthy fare: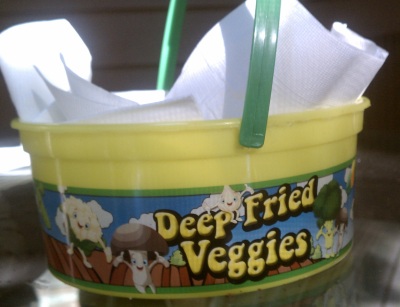 This was called a "bucket" of fried veggies, which I find misleading. I would think a bucket would be at least the size of a standard beach sand pail. That's not so say that we should have or want an entire sand pail of fried foods (lie), but if you're going to sell a bucket of something fried – by god, it should be a bucket. I'm pretty sure that's in the constitution.
But we didn't let this get us down – we persevered – it's amazing how brave humans can be in the face of inaccurate bucket descriptions. We plowed on! We moved forward! Tom and Mandy shared some sweet potato fries and I had an ear of roasted corn that was dipped in a vat of butter substance. I know, it's inspiring.
One thing my sister likes to do every year is go and see the professional cakes from the cake decorating competition. As we made our way through the building, we found winning deserts in the non-cake category:
This is just cruel. "Oh, look! These treats were so delicious, they won ribbons and everything! You can't have any!"
After sighing and fogging up the glass wishing I could taste what at that point was probably stale, brick-hard cookies, I noticed my sister standing in a long line.
I thought, "ooh, maybe they're passing out samples of winning deliciousness," so I went over and asked her why she was in line.
She was in line to LOOK at the winning cakes. I wish I had gotten a picture of it. The line was probably 20-25 people long. It was the only line we stood in the whole day. I tweeted about the absurdity of waiting in a long line to simple see a cake, not eat one. I had several responses that pretty much said "why in the hell would you do that?" I don't know, other than because my sister wanted to stand in line to see cakes, that meant we had to wait for her to see the cakes, so we might as well wait in line, too.
The cakes were alright, I guess. My two favorites were the headless horseman and Alice in Wonderland cakes:
My first thought was, "I want that headless horseman cake served at my funeral." Immediately after that was, "I want some cake."
And you know what? The fair doesn't sell slices of cake! Maybe some cupcakes, but not actual slices of a whole cake. And that, that just really gets to me. As much as I love the fair, there are elements that reflect the crushing disappointment that life can be.
Sometimes a bucket full of fried goods isn't actually a bucket, and sometimes you have to wait in line for cake and not actually have any cake. But what do you do? You pick up the pieces, and then fry them, sprinkle them with powdered sugar, and you eat that shit. That's what you do.
Stay tuned for my next installment of "A Trip to the State Fair," which will pretty much just be more musings about fried foods.